Permission to
take care of yourself
Give yourself permission to do whatever is necessary to take care of YOU! Each card provides the gift of possibility. The gift of starting each day with a focus on yourself, your goals and your dreams.
€30 incl Free Worldwide Shipping
(Approx. $35 USD or £25 STG)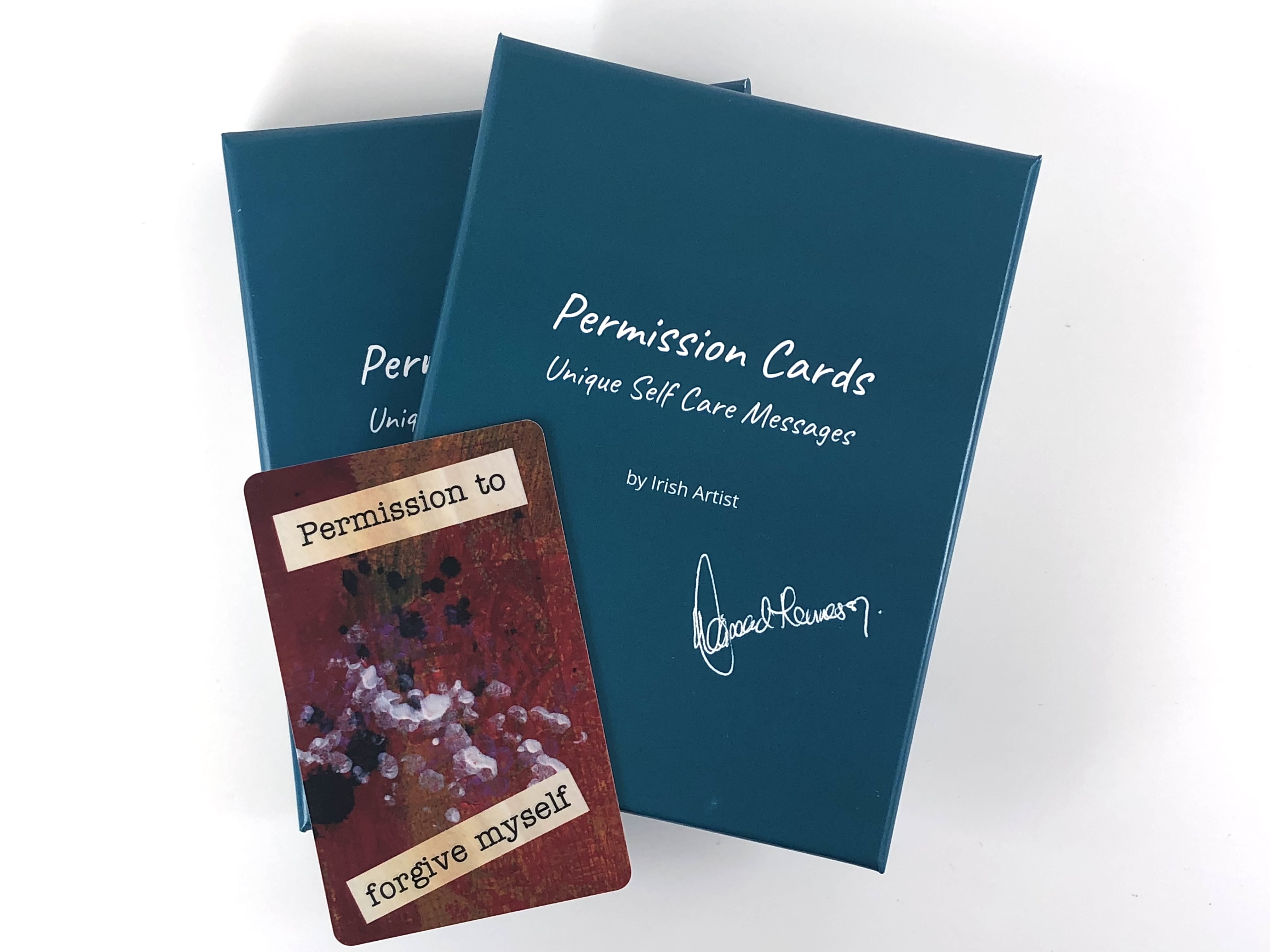 Answer the voice that says "Can I ..."
Did you ever wonder why the instructions for the oxygen in airplanes says "Be sure to put on your own mask before helping others"? It's because you can't truly help other people without first helping yourself.
Permission Cards
Permission Cards are a set of 15 unique messages printed on recycled plastic cards (similar to a credit card) with a matte finish. Each card has a different message printed with raised, tactile lettering on a background of colourful original artwork. They're packaged in a distinctive presentation gift box.
I created Permission Cards to remind myself (and my friends) that it's OK to look after yourself.
How Permission Cards work
When you feel both pressure to do something, and pressure to not do something, it's often a sign that you're conflicted between two impulses that may both be right, but the combination of them is causing you stress.
To resolve this stress, you make a conscious decision to let go one of the impulses, at least for a while. Your brain will often ignore this decision which is where the cards come in. You pick a card that explicitly gives yourself permission to do the thing that you know is right for you. Put it where you can see it throughout your day.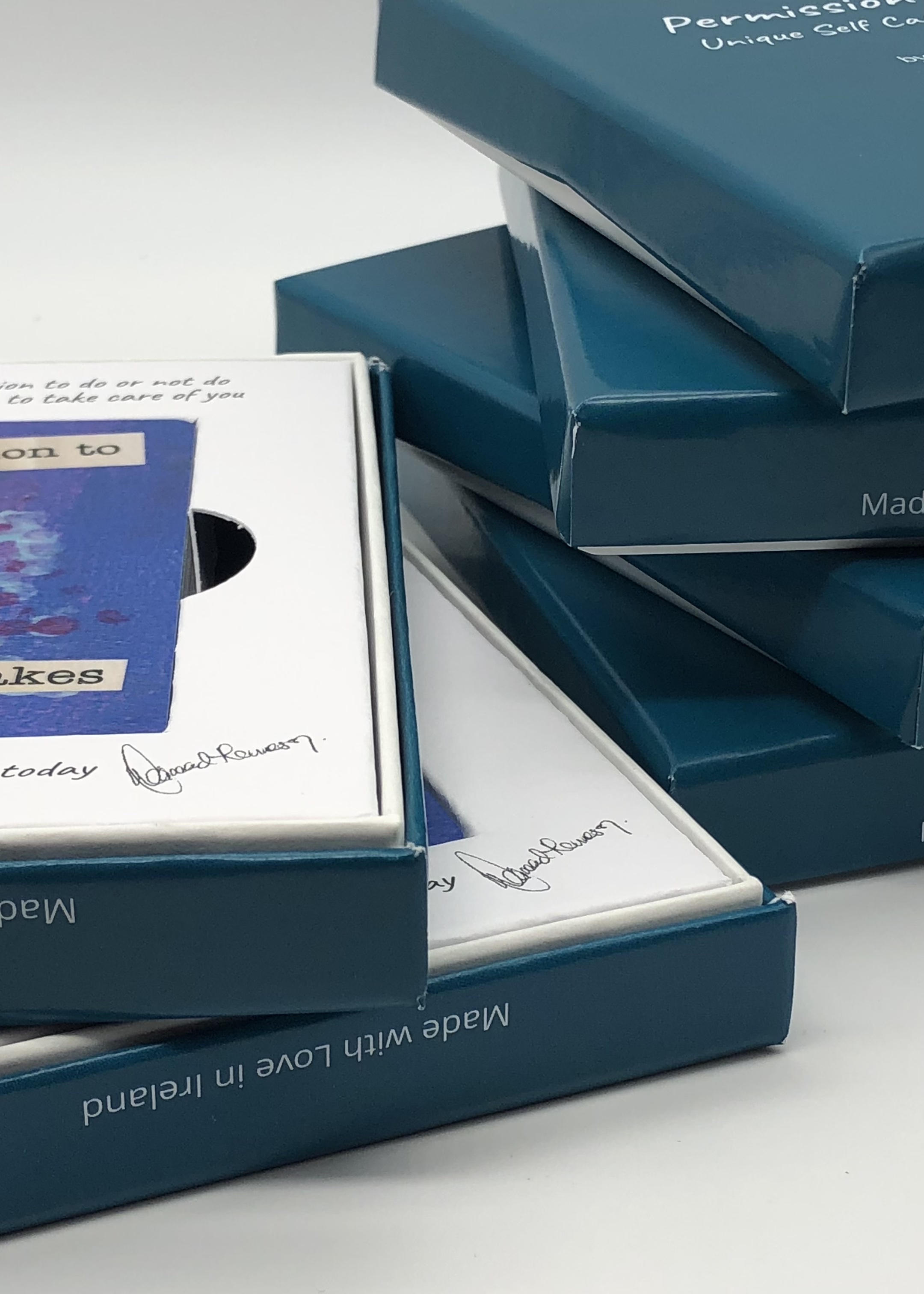 My Story
Hello! My name is Mairéad Hennessy and I'm the artist and creator of Permission Cards. I've been making some kind of art with varying degrees of success for at least twenty years... by the way art isn't something pretty you hang in your dining room because it matches your furniture. Art is something that creates a reaction - good or bad. I love playing with paper, card, paint and mark making to produce art that makes you stop and think... about you. Real you.
The idea for the cards came to me in 2020 when I heard my friend say things about herself. Cruel things. She is the kindest person in the world but in that moment she was being a bully to herself.
The idea takes shape
I was compelled to make something, anything that would stop the cruelty. I made permission cards. I came to realise that almost everyone, including me, is a bully to themselves. But as I made up permissions for those first cards I felt the softening of my inner bully. Could the cards do the same for others?
My friends got the idea very quickly. Whenever I handed them a new card, it always seemed to trigger a deep, profound, emotional reaction and this encouraged me to continue.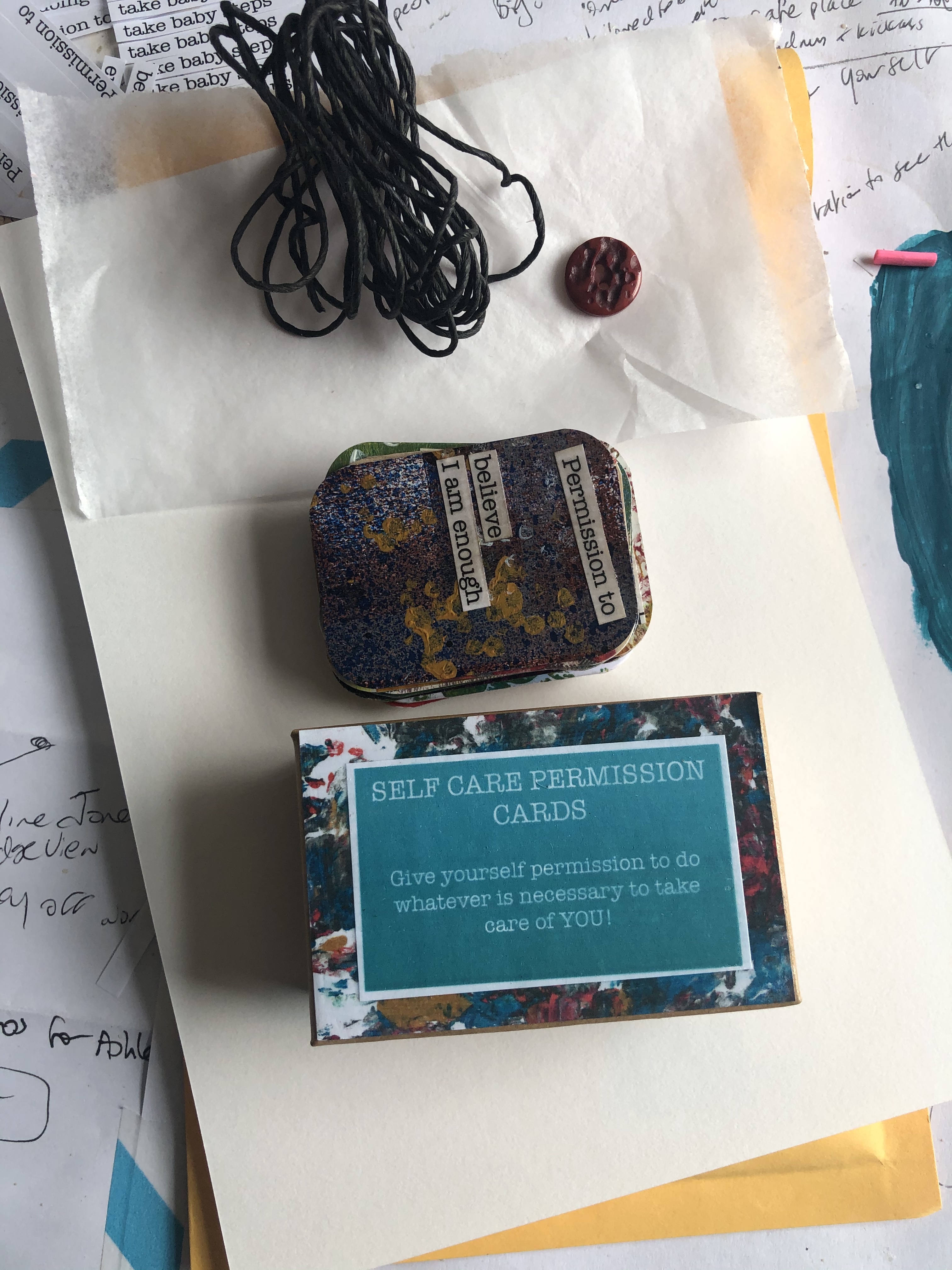 The first prototypes
The first permission cards were handmade using playing cards from a board game. My husband loves board games and I repurposed some of his old game cards and turned them into little permission cards. It took me months of making little ones before I had the courage to share them. There were fifty different permissions back then, not including bespoke cards for friends.
In June 2021 I decided to bring the cards to a wider audience and approached a manufacturer in Dublin. It was a big learning curve for me but I was really delighted with the results. Now I could spread the message that we need to be our own best friend... one gentle permission at a time.
Show your sister, mother or friend their true worth
They listen without judgement and always make space for you. They give their time and energy and love to you. They make your world a better one... Show them how important they are to you, tell them how much you love them. Give them permission to look after their own needs. Give them time to focus on themselves. Gift them a set of Permission Cards.
Create some peace
Since we were children, we've listened to parents, siblings, friends, society tell us how they expect us to act. Sometimes, those messages are useful ("Look before crossing the road", "Don't eat sweets you find on the street", ...) and sometimes the messages that make sense for people in general do not make sense for you in particular. Permission Cards help you find the messages that make sense for you, now.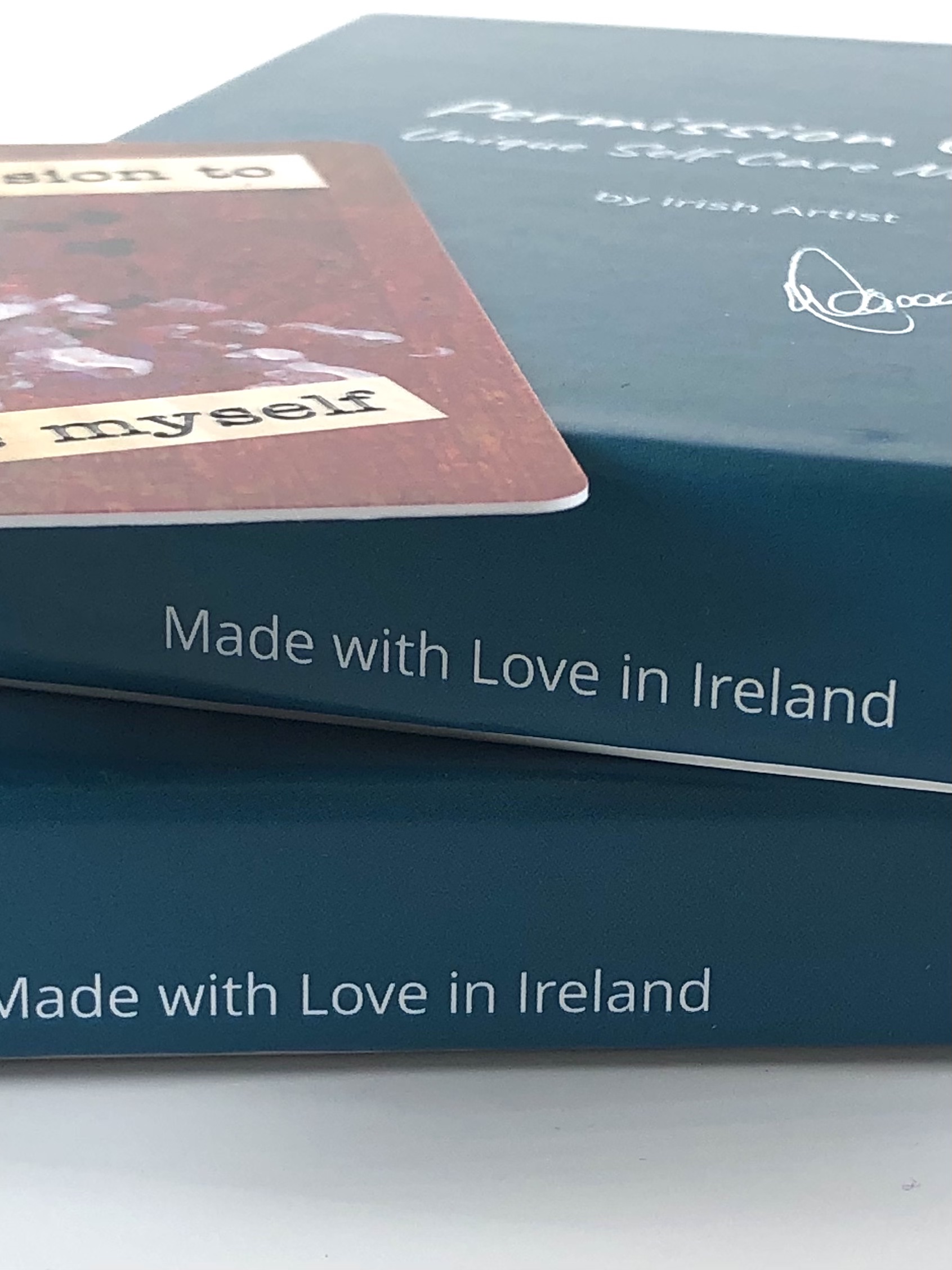 How to use Permission Cards
1. Find a quiet, comfortable space.
2. Pick one card from the box.
3. Read the words, feel the words and take a moment to go inside.
4. Then do whatever is necessary to take care of you.

You will notice the difference giving yourself permission each day makes to your life.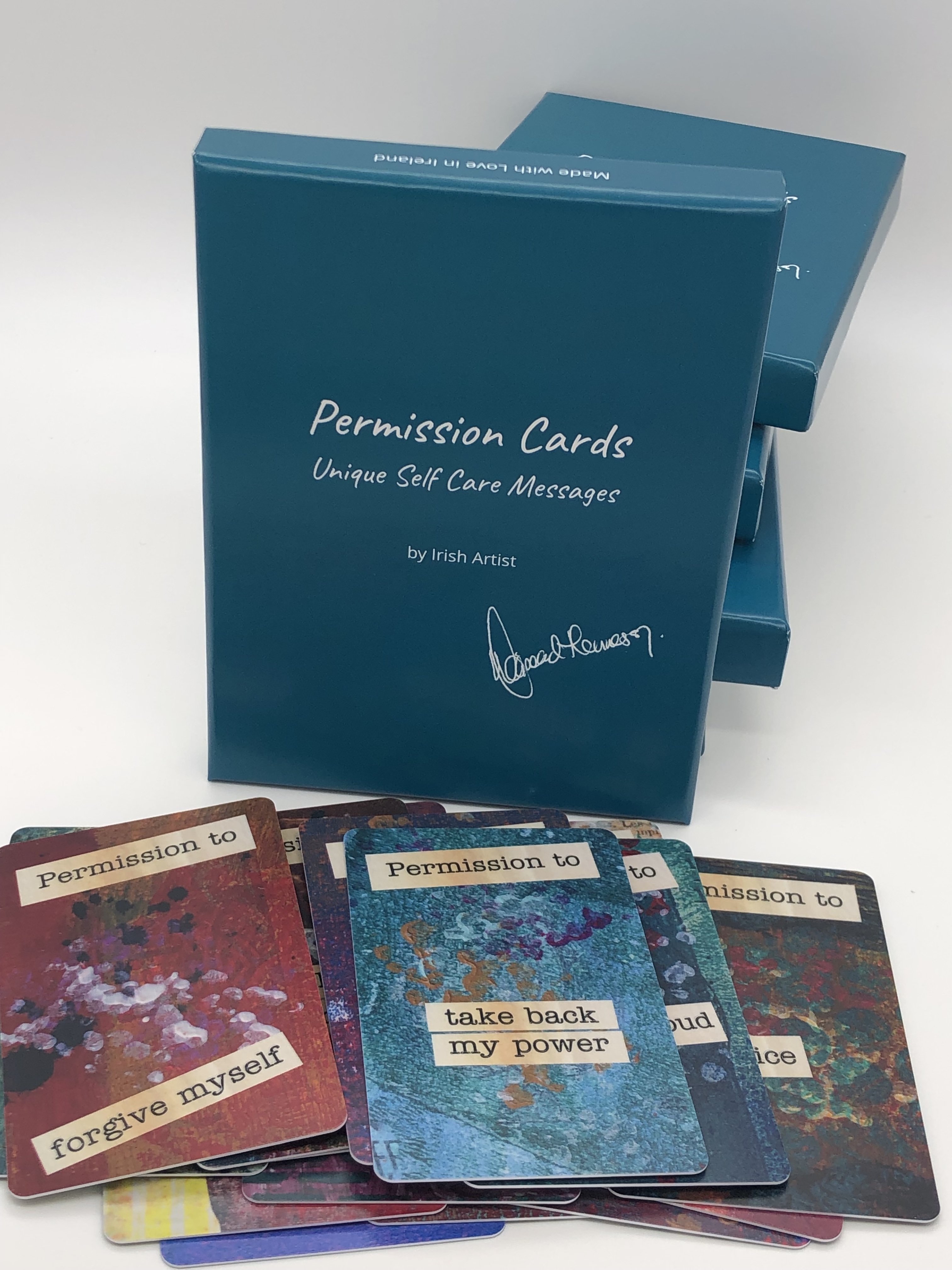 Get your own set of Permission Cards
€30 incl Free Worldwide Shipping
(Approx. $35 USD or £25 STG)
Thank you so much for the permission cards! Postman delivered yesterday but I only found them in porch this morning. They are lovely. Xxx
Good Morning, I got your lovely permission card. Thank you. As a result, I'm taking my version of a day off! Thank you.
So many self help books, courses, workshops encourage us to change. Your permission cards encourage us to accept ourselves just as we are, warts and all and to believe we are enough. Surprisingly, this allows us to choose whether we need to change something or not, if we do, the journey to change is made easier/lighter by taking a permission card when we need one.
I absolutely love your permission cards!! Your permission cards really resonated with me.......they are absolutely brilliant, sooooo creative and such a valuable and beautiful artistic tool to display and live by
These little permission cards are so good. I will ponder... when I give myself permission to stop and think for 5 mins! I may someday look back and see that I never thought to get permission to live my life as I want to!!!!!!! Didn't know that I could grant myself permission. Thank you.
I asked for a "Permission to take time off work" card be sent to a work colleague, rather than a get well soon card and they loved it. Something different and Mairead mailed it for me to the person, all the extra hassle taken and the impact was huge. Thanks Mairead!
Seeing permission to do something written down sticks with me. My permission cards are used daily, and spending time selecting the right one for the day is as important as what the card itself says. I love that they are not mass produced, their texture and attention to detail make them very unique. Using recycled and sustainable materials are also a win for me. 100% recommend.
Frequently asked questions
Do you sell the cards?

Yes! I sell a boxed set of 15, shipped to anywhere in the world.

Are they printed or hand-made?

They are printed from my designs.

Do you sell custom orders?

Sorry, no, not at the moment.

Got some questions?

I love questions! Email them to me at mairead@hennessynet.com and we'll figure out the answers.

What do they cost?

€30 for a boxed set of fifteen permissions.

What does shipping cost?

Shipping is free to anywhere in the world.